Helping to fight January Blues!
Monday 16th January 2017
Walsall Samaritans took part in Network Rail and Samaritans National campaign to turn Blue Monday into Brew Monday! 
Our volunteers attended Walsall Railway Station and were on hand throughout the morning to raise awareness, offering the travelling commuters a special Brew Monday tea bag. The aim of the campaign was to encourage people to talk about their problems over a brew.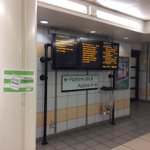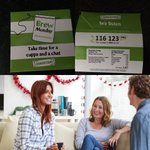 The event turned out to be very successful and was well received by everyone. If you had one of our #BrewMonday tea bags we hope you were able to take time out for a cuppa and a chat.
We would like to thank the staff at Walsall Railway Station for making us so welcome and to everyone who stopped and supported us today.  
Our Scrapbook - 2014 Events
Sunday 1st June
This was the fifth consecutive year in which we have been represented in The Great Midlands Fun Run. This run, which truly has the accent on fun, takes place around the streets of Sutton Coldfield and in the beautiful environs of Sutton Park. It's a great community event; all the money raised goes to causes that have been nominated by people who register for and take part in the event. By the day of the run, our team had raised over £400, with hopes that the total might continue to rise.
We knew from previous experience that there would be lots of people watching the Fun Run, and there's always a great atmosphere on the day, but if anything, the turnout was greater than ever this year.  As usual as well as the walkers, runners, wheelchair users and dogs there were also some more unusual wheeled conveyaces, including a table and chairs!
Thursday 1st May
At our AGM on Thursday 1st May 2014, our guest speaker is Dave Tickle, Regional Prisons Support Officer, spoke about Samaritans' work in prisons. Samaritans have been visiting prisons for many years, but it was in 1991 that the first "Listener" scheme started at HMP Swansea. Listeners are prison inmates selected and trained to offer peer support within the prisons, and most prisons in the British Isles now have Listeners.
We also reviewed our progress over the last year, when a lot of work was done to our building to make it more safe, secure, energy efficient and useable. The present prefabricated building was bought in the 1970s and intended as a temporary home for ten years. We're still there today, and the work, which is ongoing for another year or two has made the building more solid and better insulated against heat, cold and noise. Despite neding to close down for about a month during some of the work (during this time our calls were diverted to neighbouring branches), the total number of contacts (over 20,000) was roughly the same as in the previous twelve months.
We heard about fundraising highlights, including a Craft Fair, Abseil and parachute jump, and thanks were given to everyone who has supported us in anyway throughout the year.
We welcomed new volunteers, celebrated long service, and said farewll to volunteers who are no longer with us.
The meeting was attended by a cross section of branch volunteers, individual supporters, and representatives of groups that have supported us, including Walsall Lions, and Aldridge Methodists. At the end everone mingled and chatted over refreshments.
Walsall Samaritans is looking forward to another year of supporting the community and growing our volunteers skills. Here's to the next AGM!
We held a Craft Fair at St Paul's, The Crossing, Walsall on 29th March.
Visitors who spent their £1 to come in found a variety of stalls selling hand made crafts & Jewellery, soft furnishings, home made cakes, and had the opportunity to enter our Prize Raffle, first prize a lovely wicker picnic hamper complete with edible goodies. There was also a card making table which delighted children of all ages (including some grown-up ones!).
We were delighted that the Mayor of Walsall was our special guest, and very pleased to report that we made a superb £620, all of which goes directly to running our service here in the Walsall area.
We'd like to thank all the crafters who took part, everyone who donated goods to the raffle, and all the people who came to the event and made it so special.
We hope to be back at this town centre venue for future events.
Our Scrapbook - 2013 Events 
Saturday 7th December 2013
Our Xmas Fayre took place at St Martins Church Hall and was a great success. Raffles, bottle tombola, gifts, bric-a-brac, books and refreshments raised over £350 to help us keep our helpline service going right through the Christmas period.
Saturday October 19th 2013
Walsall Patchwork and Quilters raised £1,000 for Walsall Samaritans at their show The Magic of Quilts
held at St Michael's Church Hall in Rushall.
The exhibition featured trade stalls, demonstrations and handmade crafts as well as refreshments and a Charity Quilt Raffle in aid of Samaritans.
Thanks to everyone who took part or attended the event.
Saturday October 5th 2013
Would you be daring enough to do an abseil ? Two of our volunteers and two supporters did just that!
These brave individuals to take part in the abseil on Oct 5th at The New Art Gallery Walsall to raise awareness of our service, and raise funds for our Branch!
Friday September 20th 2013
World Record Skydive Attempt
On 20th September, a supporter of Samaritans Of Walsall And District took part in an attempt organised by Skyline Parachuting to smash all previous records for skydiving by completing the most tandem jumps in England in 24 hours.
Our supporter, Simon Kingscott,
experienced the exhilarating, adrenaline filled rush of exiting from the door of an aircraft from over 2 and half miles up and freefalling at a speed of 120mph through the clouds, before gliding back down to the ground below.
Thursday September 12th 2013
Did you hear us on the Drive Time show on Ambur Radio between 4 and 5 pm? "Mr Kool" (Kuldeep) interviewed a representative about Samaritans' work in the community - how it works, how it started, how it is funded and how people can get in touch or get involved.
Saturday September 14th 2013
Walsall Samaritans was the sole beneficiary of £900 funds raised when Aldridge Methodists presented their variety show "Methodists Got Talent". Thanks to all who took part in, or attended the show. Hope all of you had a great time.
Walsall Pride
On 24th August, Walsall's second Pride event  took place in the Gallery Square. Samaritans had a stand inside the New Art Gallery for visitors to talk to us, find out what we do and get information about volunteering. We were glad to meet some of you there. Thanks for taking the time to visit our stall.
Sunday August 25th 2013
Walsall Samaritans were one of the beneficiaries of funds raised at The Longhorn's Family Fun Day held at the popular pub on Sutton Road Walsall.
Talk to us
Talk to us was our July awareness event.
We wanted to raise awareness that Samaritans is available round the clock, whenever people need to talk to us.
Our activity in Walsall this year focused around talking to people about volunteering; over the last few years we have seen an increase in the number of contacts made to the branch by people needing emotional support and we feel it is more important than ever to maintain and increase our volunteer numbers. Volunteers were at the following venues to talk to people about Samaritans: B & Q, Wednesbury, ASDA St Matthews, Walsall, Bescot Stadium (Walsall FC ground), and Walsall Night Market.
Wednesday 24th saw the official re-opening by the Mayor, of our Centre, following extensive repairs and refurbishments to make it fit for a good few years more use! Volunteers, friends and supporters enjoyed drinks and nibbles and listened to a brief history of the branch before the mayor cut the ribbon.
Once again we had a stall on Walsall Market selling all sorts of bric-a-brac. Thanks to all who came to talk to us and bagged themselves some bargains - glad we were able to tempt you - we clocked up £256.35 and all the money raised goes directly to running Samaritans in Walsall.
Great Midlands Fun Run
The weather was bright and warm when a team of two runners representing Walsall Samaritans took part in the Great Midlands Fun Run in Sutton Coldfield on Sunday June BBB.  
Our Fun Run crew say:  "If you like to run, fundraising is fun! It's also vital to our charity, as we totally rely on fundraising and donations to run our service which offers emotional support to people of all ages and backgrounds, in all sorts of situations."
Annual General Meeting
Our AGM this year featured guest speaker Dr Safi Afghan, Consultant Psychiatrist, Dudley and Walsall Mental Health Partnership NHS Trust who gave a talk about Suicide Prevention, covering topics such as suicide rates for the UK, conditions making people vulnerable to suicide, misconceptions about suicide, how people can be helped and prevented from taking their lives, self harm and treatment for people with mental health issues and risky behaviours.